| | |
| --- | --- |
| Posted by Melany on April 9, 2013 at 9:55 AM | |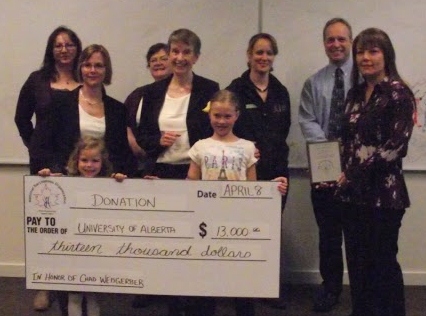 Left To Right Back - Cheryl Gould, Dawn Smith, Tanya Saban, Dr. Beach, Front Left To Right - Tania Weisgerber and daughters Claire and Annika, Dr. Cherry and Melany Sealy.
On Monday, April 08, 2013, the National Sarcoidosis Organization presented a cheque for $13,000.00 to Dr. Nicola Cherry and Dr. Jerry Beach of the University of Alberta. The funds are in aid of their latest research project of investigating gene environment interactions in the etiology of Sarcoidosis. This is the largest study ever done of pulmonary Sarcoidosis.
The NSO is the only Canadian charitable organization, dedicated to raising public awareness and raising funds in support of Sarcoidosis research in Canada.
This donation was made in memory of Chad Weisgerber, who in May of 2012, died as a result of complications of neuro-sarcoidosis.
For more information on this and other events, or to learn more about Sarcoidosis, please visit our website at
www.nationalsarcoidosisorganization.com
Or contact:
Melany Sealy, President, National Sarcoidosis Organization Email: Nationalsarcoidosis@gmail.com